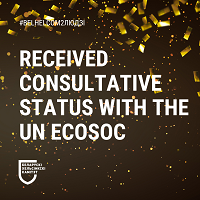 This means that now BHC, and through us other Belarusian civil society organizations that protect human rights, have an easier way of communicating with the UN.
Having this status, non-governmental organizations are given a number of opportunities: to cooperate more closely with the ECOSOC and its bodies, the right to participate in international events and conferences held within the framework of the UN, to make oral and written statements within the framework of these events, to have access to the UN territory, etc.
If an NGO does not have such a status, then, in fact, it needs an accredited partner to promote its position within the framework of UN events.
BHC is the first and so far the only non-governmental organization from Belarus that has received this status.
It should be recalled that the BHC systematically works with UN mechanisms, constantly communicates with Special Procedures, informing them about individual human rights violations, systemic problems, as well as draft laws that may have a potential negative impact on human rights. We are particularly active in using Special Procedures to protect lawyers, people who have suffered from torture, etc. We also participated in the preparation of alternative reports to the UN Committees within the framework of the Universal Periodic Review and the SDGs.
We have been seeking consultative status with ECOSOC for more than 5 years. All this time, the delegations of Russia (mainly) and China have been delaying the process using formal procedures.
This is an important decision also because it was made despite the liquidation of the Belarusian Helsinki Committee by the authorities. This is a recognition that a public organization does not need formal registration, but real activity.
We thank everyone who participates in the work of the BHC! Including numerous interns and volunteers, members of the organization, colleagues from the third sector, journalists, good friends from the business community who have always shared advice with us. We also thank our international partners who have supported us all this time.
For reference: The ECOSOC is one of the 6 main UN bodies, occupying a central place in the activities of the United Nations system to promote all three aspects of sustainable development - economic, social and environmental.