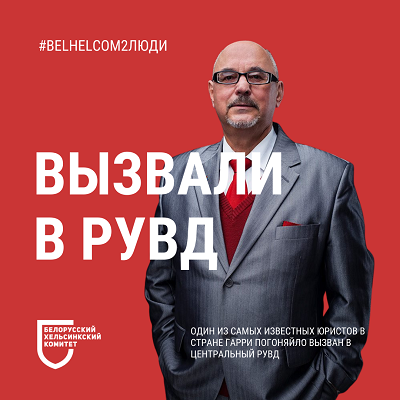 UPD. The explanations took about 2.5 hours. Harry Pogonyailo gave explanations in the presence of his lawyer.
Hary Pahaniaila was summoned to the Tsentralny District Office of Internal Affairs on 3 June at 10.00 to give explanation regarding his newly published interview for Charter97.org (the interview was later republished by moyby.com).
We remind that Hary Pahaniaila is head of the BHC Legal Committee. Mr. Pahaniaila worked as an attorney, head of legal consultation, judge in a People's Court, head of the legal consultancy office of the Sovietskij district in Minsk. 
Since 1976, Hary Pahaniaila has held different positions in the Central office of The Ministry of Justice of the Republic of Belarus, including the head of advocacy department.
From 1991 to 1993 — president of the Lawyers Union of Belarus.
From November 1997 to October 2003 — member of the interterritorial board of lawyers of the Guild of Russian lawyers.
Since 1998 — deputy chairman of BHC. Since July 2007 — head of the BHC Legal Committee, expert in the national and international mechanisms for human rights protection. 
Since 2006 — member of the Belarusian Association of Journalists. 
Hary Pahaniaila took part in the development of a number of legislative acts, namely The 1994 Constitution of the Republic of Belarus, the Law of the Republic of Belarus «On Advocacy and advocatory activities». 
As a lawyer and human rights advocate, Hary Pahaniaila participated in numerous «celebrated cases», namely the cases of poet Slavamir Adamovich, Russian journalists Pavel Sheremet and Dmitry Zavadsky, ex-head of the National Bank of the Republic of Belarus Tamara Vinnikova, ex-prime-minister Mihail Chygir, head of joint-stock company «Rassvet» Vasily Starovoitov, deputy of the Supreme Soviet of the 13-th convocation Andrey Klimau, etc.