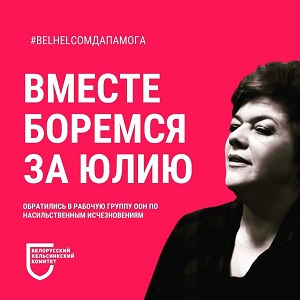 The Belarusian Helsinki Committee addressed a communication to the UN Working Group on Enforced or Involuntary Disappearances bringing to their attention the situation with the disappearance of Yulya Charniauskaja, culture expert, widow of the founder of the Tut.by portal.
Public sources reveal that in the morning of 18 May Yulya Charniauskaja accompanied by law enforcement officials was taken to the 1st Minsk City Clinical Hospital with an alleged hypertensive crisis. Family acquaintances have seen Yulya in the hospital with security officials. The admission ward has later reported that Yulya Charniauskaja was «sent home» from the 1st Minsk City Clinical Hospital.
Yulya Charniauskaja has thus far not answered her phone. She is outside her place of dwelling.
To date, law enforcement officials have not provided official information on Yulya's whereabouts and procedural status. Yulya's lawyer who is constantly in touch with her close relatives could not find out about Yulya's procedural status and presence or absence in the institutions (including medical) within the Internal Ministry or KGB within 24 hours.
According to its mandate, the UN Working Group on Enforced or Involuntary Disappearances is to receive, consider, and transmit allegations of enforced disappearances reported by relatives of missing persons or human rights organisations representing their interests. The Working group urges the states concerned to investigate the cases and inform the Working group of the results.
We hope that the communication will help to promptly ascertain Yulya's fate and stop enforced disappearances of political opponents of the present authorities.