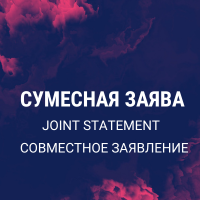 Joint statement by the Belarusian human rights community
September 18, 2023
We, representatives of the human rights community of the Republic of Belarus, having received, collected, and analyzed information about the criminal prosecution by the Belarusian authorities of participants of peaceful assemblies during and after the 2020 presidential elections, the sentences and their execution against the participants, the legal status of those convicted under the so-called "extremist" articles of the Criminal Code, note the following:
Freedom of peaceful assembly is guaranteed by Article 21 of the International Covenant on Civil and Political Rights; this freedom is not subject to any restrictions other than those established by law and necessary in a democratic society in the interests of state or public security, public order, public health and morals, or the protection of the rights and freedoms of others;

The Belarusian authorities arbitrarily detained, convicted in violation of the principle of the rule of law, and now continue to prosecute participants of peaceful protests; the facts of this politically motivated persecution often become known only shortly before or after the release of another victim of repression, and due to that reason the human rights community have not issued a statement recognizing them as political prisoners;

The authorities do not recognize their responsibility for arbitrary deprivation of liberty of citizens in connection with the exercise of their rights and freedoms provided for by international treaties binding on Belarus, continue to arbitrarily persecute the repressed even after their release, depriving them of their rights by putting citizens of the Republic of Belarus, foreign citizens or stateless persons on the list of persons connected to extremist activities;

during the specified period, the human rights community recognized more than 1,000 participants of peaceful protests as political prisoners at the time when they were deprived of their liberty, and collected information about more than 1,500 convicted for this to various types of punishment, related and unrelated to deprivation of liberty, in respect of which a preventive measure was often chosen in the form of custody or house arrest.
According to the Guidelines on the Definition of Political Prisoners, a person deprived of liberty is to be regarded as a political prisoner, if at least one of the following criteria is observed:
a) the deprivation of liberty was applied solely through his political, religious or other beliefs, as well as in connection with the non-violent exercise of freedom of thought, conscience and religion, freedom of expression and information, freedom of peaceful assembly and association, other rights and freedoms guaranteed by the International Covenant on Civil and Political Rights or the European Convention for the Protection of Human Rights and Fundamental Freedoms;

b) the deprivation of liberty was applied solely because of non-violent activities aimed at protecting human rights and fundamental freedoms;

c) the deprivation of liberty was applied solely on the basis of sex, race, skin color, language, religion, national, ethnic, social or ancestral origin, birth, citizenship, sexual orientation and gender identity, property status or other grounds, or based on the existence of a stable connection with communities united by such grounds.
Those convicted solely for participating in peaceful protest actions fully and unconditionally met the specified criteria during the period of their imprisonment. Their release from custody, house arrest or after serving their sentence leaves unresolved questions about the revision of their sentences with the purpose of complete cancellation, their rehabilitation, and compensation for the damage caused by arbitrary conviction.
We know the names and circumstances of the cases of the following people who, as punishment for exercising the right to peaceful assembly, were deprived of their liberty: detained, sentenced to deprivation or restriction of liberty, arrested, and until now released without rehabilitation and compensation for the damage caused:
Dzmitryi Anisimau, Anton Andrenka, Pavel Aheyenkau, Aliaksandr Adashchyk, Mikita Aliaksandrau, Artsiom Alipau, Natallia Antonava, Dzmitryi Anisimau, Viktar Artsiom, Anastasiya Babayeva, Uladzislau Bandaryk, Aliaksandr Bardzin, Anton Barouski, Natallia Bohush, Aliaksei Bondar, Henadz Buhlak, Matsvei Budnitski, Aliaksandr Builitski, Artur Bulauski, Amirani Butsiyashvili, Mikalai Butski, Hanna Bialova, Alena Valavik, Ivan Valatsko, Milana Volfovich, Pavel Varanko, Volha Vasilevich, Vital Vasilevich, Viktar Arekhau, Veranika Vinahradava, Aliaksei Halieuski, Ramon Hansales, Dzmitryi Haro, Natallia Haro, Yuliya Hlushytskaya, Nadzeya Hryshchuk, Mikalai Hubin, Viktar Hurko, Dzianis Davydau, Tatsiana Dzemchanka, Aliaksandr Dziarbinski, Vadzim Dzmitranok, Yuryi Dzikovich, Katsiaryna Zharko, Artsiom Zhdanovich, Natallia Zoryna, Dzianis Zubrytski, Ivan Zyskunou, Andrei Ziankou, Lidziya Ivanova (Hormash), Vital Kazlouski, Mikhail Kandratovich, Andrei Kapyshau, Aliaksei Kavaleuski, Ihar Karaneuski, Vital Kazlouski, Kanstantsin Karnei, Danil Karankevich, Andrei Katsiubnikau, Nino Kusurhashava, Siarhei Kozel, Yauhen Krauchuk, Illia Kruk, Viachaslau Krut, Ivan Kuliashou, Aliaksei Kurt-Nazarau, Kiryl Kiaturka, Palina Kib, Alena Kizim, Siarhei Kizim, Sviatlana Kindzel, Vadzim Kiryanau, Andrei Lahun, Liudmila Lapatsina, Aliaksei Lauski, Dzmitryi Lebedzeu, Volha Lesavik, Maksim Lesavik, Dzmitryi Liankevich, Aliaksandr Lianko, Maryna Liakhnovich, Siarhei Liauko, Liudmila Mazurkevich, Dzianis Maslau, Vital Matsiush, Valeryia Mashok, Yuryi Mashok, Siarhei Molash, Ruslan Miatselski, Dzianis Navalayeu, Dzmitryi Naimark, Anton Navumau, Katsiaryna Novikava, Hanna Arekhava, Uladzimir Astrouski, Stanislau Padymanskas, Maksim Paluyanchyk, Vital Papou, Hanna Pashkevich, Aliaksei Paulenka, Dzmitryi Pleshavenia, Yuryi Pratskevich, Aleh Protas, Yuryi Radzkou, Radzivon Baravy, Vasil Ramanenka, Anton Ruchan, Pavel Ramenchyk, Aliaksandr Savostsin, Maksim Savich, Dzmitryi Sadavoi, Barys Samkovich, Raman Saroka, Artsiom Sasnouski, Fiodar Sautsin, Aliaksandr Svirydzenka, Aliaksei Skirda, Hanna Smalian, Aliaksei Smiashkou, Valeryia Sokal, Marharyta Sokal, Viachaslau Statsko, Aliaksandr Strokau, Dzmitryi Stupakevich, Darya Sudnik, Mikhail Sudnik, Aliaksandr Sushko, Anton Stsiapanau, Zhanna Siadletskaya, Veranika Sidarenka, Ivan Siniauski, Siarhei Tarasevich, Yuliya Tarasevich, Viachaslau Taletski, Anastasiya Tatarynava, Ivan Tyshchanka, Andrei Fokin, Uladzimir Furman, Katsiaryna Tsyunel, Volha Charnushych, Natallia Charnysh, Aliaksei Chumakin, Aliaksandr Shastsiorau, Artsiom Shafranski, Vadzim Shashura, Andrei Shliapau, Aksana Shcharbovich, Siarhei Shcharbovich, Yauhen Shamiakou, Yuliya Yakubovich, Yauhen Yakubovich, Tatsiana Yankouskaya, Zlata Yanukovich, Maksim Yaskevich, Siarhei Yasiuchenia.
In its statement of August 10, 2020, the Belarusian human rights community condemned the actions of law enforcement agencies for the brutal suppression of peaceful protests and placed all responsibility for what happened on August 9 and 10 on the authorities of Belarus. Further protest actions were also peaceful in nature, assemblies and their participants had to be protected by law.
We assess the persecution of the above-mentioned individuals who were imprisoned and accused of group actions, grossly violating public order, as politically motivated, as it is related to their exercise of freedom of peaceful assembly and expression of their opinion regarding the announced results of the presidential elections of the Republic of Belarus and other socially significant events.
With regard to the listed former political prisoners, we demand a review of their criminal cases in order to cancel their sentences, ensure their full rehabilitation with compensation for all types of damage caused by arbitrary conviction and imprisonment.
In this regard, we call on the Belarusian authorities to:
to cancel arbitrary sentences against the persons listed in the statement, to ensure their full rehabilitation and to compensate them for the damage caused by arbitrary criminal prosecutions;

immediately release all political prisoners, as well as other individuals detained in connection with their exercise of freedom of peaceful assembly in the post-election period, and stop political repression in the country.
Human Rights Center "Viasna"
Legal initiative
Human Constanta;
Office for the Rights of Persons with Disabilities
PEN Belarus
Belarusian Helsinki Committee
Belarusian Association of Journalists
Barys Zvozskau Belarusian Human Rights House
Lawtrend.