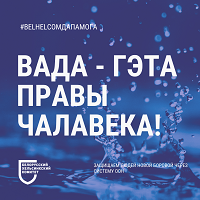 In connection with water situation in Novaya Borovaya, the Belarusian Helsinki Committee reached out to the UN Special Rapporteur on the Right to Safe Drinking Water and Sanitation.
According to international standards, access to safe drinking water and sanitation is essential for decent life and the observance of human rights. 
We ask the UN Special Rapporteur to urgently contact the government of Belarus in connection with reasonable assumptions that water disconnection (hot and cold) in Novaya Borovaya was politically-motivated.
We drew the attention of the Special Rapporteur to the fact that this situation greatly affects the inhabitants of Novaya Borovaya, who are active citizens engaged in political life, resulting in violation of their right to an adequate standard of living and the highest attainable standard of physical health.
Given that 15 thousand people live in Novaya Borovaya, this situation involves significant and massive violations.
In addition, water disconnection affected the work of local education, which, in turn, had implications for the realization of the right to education.
!!! Please note !!! for other, less extraordinary cases, see our guide "How to exercise your right to clean water" (in rus).